Ehtiopia Fast Track
Airport Meet and Assist
VIP Assistance at Addis Ababa (ADD) airport ...
CHECK PRICE
BOOK NOW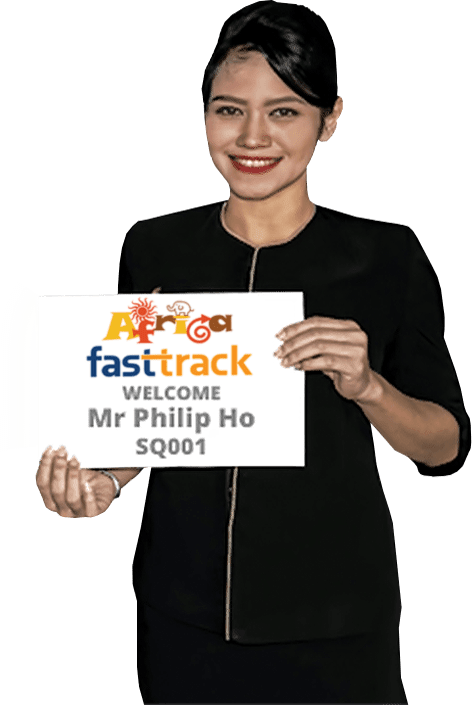 Meet and Assist services at airports in the Ethiopia. For any traveler, on any airline, in any cabin class.
Addis Ababa  airport is a small but busy airport in Ethiopia.  Booking a Meet and Assist Service will make passing through it fast and easy. Ethiopia Fast Track's local greeters will help bypass the lines and ensure a quick arrival, a smooth departure, or a successful connection.
Africa Fast Track's service in Ethiopia adds a first class feel, usually reserved for VIPs or celebrities. The service may include regular or special immigration handling, an electric buggy kart, help with VOA and baggage,  Before you book, our reservation team & system will help you book the exact service that you need.
Airport Meet and Greet service in Ethiopia Addis Ababa (ADD).
On arrival Ethiopia Fast Track's English speaking greeters will meet you near the air bridge. They will assist you through any passport or visa control, and escort you to the baggage and customs area. They will help find your driver, or if you booked a connection, check in to your next flight.
On departure, they will contact your driver, will assist you through check-in and immigration, and will take you to your airline lounge or the boarding gate.
For connections, the greeter will meet you near the air bridge and will guide and escort you through the arrival, departure and transfer processes needed for your connection, right through to your airline lounge or the gate.
For more than 10 years our Airport Assistance and Booking Team has assisted thousands of travellers pass smoothly through busy airports. Before you book, Fast Track's tools and expert staff will help you understand and choose the exact service you need at the lowest possible cost.
Fast Track services are available to any traveler, on any airline, and in any cabin class, and in all major airports around Asia, the Middle East & Africa.
Addis Ababa Bole International Airport (IATA: ADD) is located 6KM southeast of the city centre of Addis Ababa. This is a busy airport with over 450 daily flights and is the base for Ethiopian Airways. There are 2 terminals at this airport but there is talk of further expansion. Terminal one serves the domestic and regional route and Terminal two serves international destinations and include; Qatar, Emirates, Lufthansa and Turkish Airlines. Inside the airport there is comfy seating and various cafes and a well equipped business lounge called 'Nine Cloud'.
It also has duty Free shops but many people report that the prices in the duty free are very high indeed. There are short term and long term parking options outside each of the terminals.
There is a taxi service that operates from the airport. The yellow taxis are government taxis and the prices in these are cheap. The white and blue taxis are private and it is said that their prices are much higher. You can also take a minibus from the airport.
Located in the Horn of Africa; Ethiopia is an ancient country with much culture to offer. Some of the earliest skeletal evidence of humans has been found in Ethiopia. It is also home to one of the oldest alphabets in the World known as Ge'ez script dating from 9th century BC until now. Many people regard Ethiopia as the most amazing place on the planet with wonderful people, tremendous history dating back thousands of years and truly memorable wildlife. There are many customs and traditions that are very much present in today's Ethiopia and have survived the ages . They have many festivals in this country and if you are lucky enough to witness one, it will be one of the most memorable experiences for you. One other unforgettable experience is to take a long drive from the capital into Bale Mountains National Park; here you can see traditional round houses, bell shaped flowers and all the wildlife and nature one could ever wish for.
The capital Addis Ababa is a city on the verge of ancient mystery. Inside the city itself it is polluted, very busy and many tourist want to leave it as quick as they arrive. However, here one can sample some of the best food in Ethiopia with a great selection of traditional restaurants. Accommodation is also plentiful ; with a good selection of high end hotels including the Sheraton Luxury Collection and the Radisson Hotel.